Welcome to the ultimate guide for visiting Tikal in 2023! Tikal, the ancient jewel of the Maya civilization, is nestled in the lush rainforests of northern Guatemala. This UNESCO World Heritage Site is famous for its towering pyramids, extensive plazas, and vibrant wildlife. Whether you're a history buff, an adventurer, or a nature lover, Tikal offers an unforgettable experience. In this comprehensive guide, we've answered the top FAQs about traveling to Tikal to help you plan the perfect trip."
What is Tikal?
Answer: Tikal is one of the largest and most important ancient Maya civilization archaeological sites. It is located in the El Petén department of northern Guatemala and consists of thousands of structures, including temples, palaces, and plazas.
Is it safe to travel to Tikal?
Answer: Generally, Tikal itself is considered safe for tourists. However, travel in Guatemala can have risks, so it is important to exercise caution, avoid traveling at night, and follow advice from reputable tour operators or authorities regarding safety.
How do I get to Tikal?
Answer: Most travelers fly into Guatemala City or Flores and then take a bus or shuttle to Tikal. Alternatively, some people visit Tikal as a day trip from Belize.
What is the best time to visit Tikal?
Answer: The dry season, typically from November to April, is considered the best time to visit Tikal. There is less rainfall during this time, making the experience more pleasant.
Do I need a guide for Tikal?
Answer: While exploring Tikal alone is possible, hiring a guide can enhance the experience by providing historical context and insights into the Mayan culture.
What should I bring to Tikal?
Answer: Comfortable walking shoes, water, snacks, a hat, sunscreen, insect repellent, a camera, and some cash for entrance fees and souvenirs.
How much time should I spend at Tikal?
Answer: Most visitors spend a whole day exploring Tikal. Some stay overnight in the nearby lodges to experience the sunrise or sunset amidst the ruins.
What are the entrance fees for Tikal?
Answer: Foreigners' entrance fee for Tikal National Park is 150 Quetzales (20 USD, nationals pay 25 Quetzales, and kids under ten don't pay. Prices for guided tours vary.
Can I climb the temples at Tikal?
Answer: Some temples at Tikal can be climbed, while others are off-limits to preserve the site. It's essential to respect the rules and guidelines set by the park authorities.
What kind of wildlife can I see at Tikal?
Answer: Tikal is not just an archaeological site but also a biodiversity hotspot. Visitors can see various species of birds, monkeys, and other wildlife in the surrounding jungle.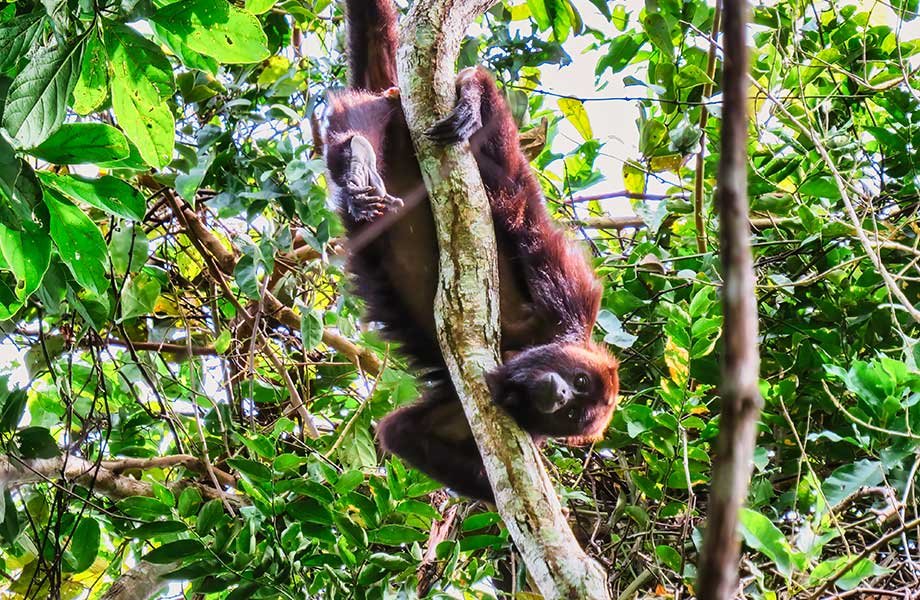 How do I get from Guatemala City to Tikal?
Answer: You can get to Tikal from Guatemala City by air or road. The quickest way is to fly from La Aurora International Airport in Guatemala City to Mundo Maya International Airport in Flores. From Flores, it's about an hour's drive to Tikal. Alternatively, you can take a bus or shuttle from Guatemala City to Flores and Tikal.
How far is Tikal from Antigua, Guatemala?
Answer: Tikal is about 500 kilometers (approximately 310 miles) north of Antigua, Guatemala. You can take a bus or shuttle to Guatemala City and then continue by air to Flores or take a direct overnight bus from Antigua to Flores and then a shuttle to Tikal.
Is Tikal worth visiting?
Answer: Many visitors find Tikal to be an extraordinary and worthwhile experience. The site is a UNESCO World Heritage Site and offers a deep insight into the ancient Maya civilization, with its towering temples and rich history. Additionally, the natural surroundings and wildlife make it a unique destination.
Personal Experiences:
"As a seasoned guide, my first visit to Tikal remains one of my most memorable experiences. Climbing to the top of Temple IV before dawn and watching the sun rise over the misty rainforest was surreal. The sounds of howler monkeys and exotic birds echoed through the jungle, making it feel like traveling back to the ancient Mayan era. My recommendation is not to miss the sunrise or sunset tours; the atmosphere during these times is truly magical."
Practical Tips:
Packing:

Bring light, breathable clothing. The jungle can be hot and humid. Comfortable hiking shoes are essential.

Stay Hydrated:

Carry a refillable water bottle. Staying hydrated is crucial.

Best Photo Spots:

For an iconic photo of Tikal, climb Temple IV and capture the tops of Temples I and II peeking through the jungle canopy.

Local Cuisine:

Try the local Guatemalan dish Pescado Blanco (Whitefish), rich at one of the eateries near Tikal.
"Ready to embark on the adventure of a lifetime? Tikal's ancient ruins and enchanting rainforests await you. Contact us today for expert advice and tailor-made tours that promise an unparalleled experience. Don't just visit Tikal; live it!"
"Looking for more travel inspiration and tips? Check out these related articles and tours: