What's the best way and where to buy a Tikal entrance ticket?
The best way to purchase an entrance ticket to Tikal is online, which allows you to avoid long lines at the park entrance. You can buy your ticket through the official Guatemalan government website. After the purchase, you'll receive a PDF invoice which you need to print out and show at the Tikal Park entrance. This method is secure, quick, and easy, making your journey to the ancient Mayan city a breeze.
Skip the Queue: Your Guide to Tikal Online Entrance Fee Payment
Discover the safe, convenient way to pay your Tikal entrance fee online. Avoid long lines and start your adventure immediately with our easy guide."
Tikal Online Entrance Fee Payment
Welcome to your comprehensive guide to paying your Tikal entrance fee online. Tikal is a must-visit destination for any traveler, as one of the world's most impressive ancient Mayan cities. But why waste precious time standing in line to pay your entrance fee? With our guide, you can secure your ticket from the comfort of your home, ensuring a smooth, hassle-free visit to this UNESCO World Heritage site.
Step-by-Step Guide:
Paying your Tikal entrance fee online is a simple process that can save you time and hassle. Here's how to do it:
Visit the official Tikal National Park ticketing website.

 

https://boletos.culturaguate.com
Go to Boletos para Extranjeros.
Select the date of your visit.
Enter the number of tickets you need.
Fill in your personal information and verify your email address.
Review your order and proceed to payment.
Choose your preferred payment method and complete the transaction.
You will receive a confirmation email with your ticket(s). Print these out and bring them with you on your visit.
Alternative Payment Methods:
While online payment is the most convenient option, you can purchase your Tikal entrance fee directly at BANRURAL and Credito Hipotecario Bank Agencies.
These agencies are located in Guatemala City, Antigua, the villages around Lake Atitlan, Santa Elena, Peten, and downtown Melchor de Mencos, the border city between Guatemala and Belize.
If you arrive by plane at Mundo Maya airport, there is a convenient BANRURAL bank agency to buy your ticket to Tikal before going to the park.
Please note that payments at these agencies must be made in cash, but don't worry; there are also many ATMs to get some money.
Entrance Fee for Children:
Children aged nine and under can enter Tikal free of charge. However, they must still present their passports as proof of age. Children aged ten and above are required to pay the full entrance fee.
FAQ Section:
This section answers some of the most frequently asked questions about the Tikal online entrance fee payment process.
Can I pay the entrance fee at the park?
Yes, you can pay the entrance fee at the park. However, this often involves waiting in long lines. We recommend using the online or Bank payment system to save time and ensure a smooth visit.
What forms of payment are accepted online?
The online payment system for the Tikal entrance fee typically accepts major credit and debit cards. Please check the official website for the most up-to-date information.
Can I get a refund if my plans change?
Tickets purchased online are non-refundable and do not have a change of date; you must be sure of the date of your visit.
Tickets purchased at bank agencies are valid for one month. We recommend checking the official Tikal National Park ticketing website for the most current information on their refund policy.
What should I do if I still need to receive my confirmation email?
Check your spam or junk mail folder if you are still waiting to receive your confirmation email after paying your entrance fee online.
If you still need help finding it, contact the customer service team through the official Tikal National Park ticketing website for assistance at: soporte.sig@mcd.gob.gt or WhatsApp +502 30413695 and provide your transaction details to assist you. (Do not send your card details when requesting assistance)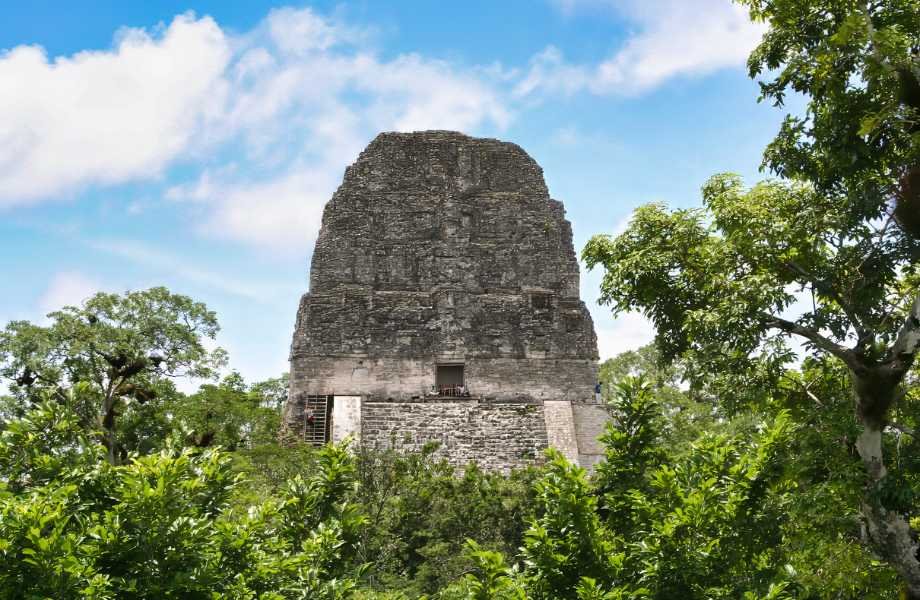 Note:
VERIFY THAT THE EMAIL YOU PROVIDE IS CORRECT since you will receive confirmation of your purchase and proof of payment, which you must present at the Tikal National Park checkpoint.
VERIFY THAT YOUR PURCHASE IS ACCORDING TO YOUR NATIONALITY. You will be allowed into the park if you have the proper ticket.
Tikal National Park cannot make refunds. If you buy tickets to any service, YOU MUST PAY YOUR ENTRY TO THE PARK. If, for some reason, the PDF does not arrive attached, your order number in the confirmation email is equally valid, and it is highly recommended to bring the print screen of the purchase page.
From Antigua by Air
From US$ 360.00 p/p
From Guatemala City by Air
From US$ 340.00 p/p
From Flores
From US$ 90.00 p/p
Birding Tour
From US$ 160.00 p/p
From Belize
From US$ 215.00 p/p
Private Tour
From US$ 140.00 p/p